By Shashank Mohan and Nidhi Singh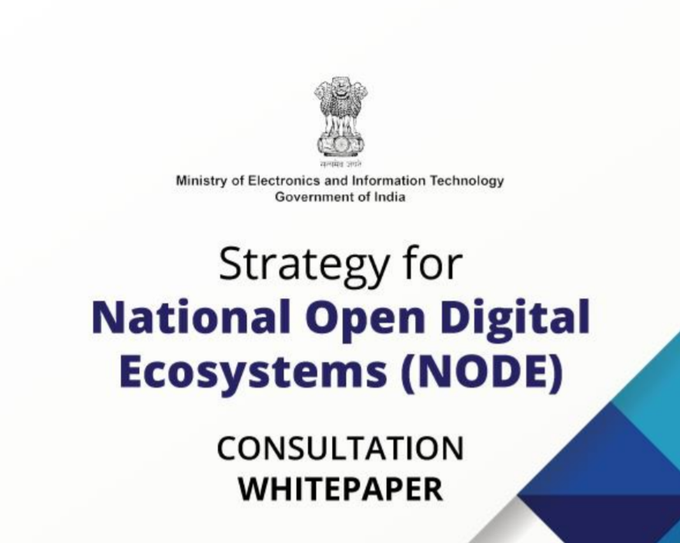 In late March, the Ministry of Electronics and Information Technology (MeitY) released its consultation whitepaper on the National Open Digital Ecosystems (NODE). The NODE strategy was developed by MeitY in consultation with other departments and stakeholders, as a part of its efforts to build an enabling ecosystem to leverage digital platforms for transformative social, economic and governance impact, through a citizen-centric approach. The Whitepaper highlights key elements of NODE, and also its distinction from the previous models of GovTech. The Centre submitted its comments on the NODE Whitepaper on 31 May 2020, highlighting some of our key concerns with the proposed strategy.
The NODE Whitepaper proposes a complex network of digital platforms with the aim of providing efficient public services to the citizens of India. It defines NODE as open and secure delivery platforms anchored by transparent governance mechanisms, which enable a community of partners to unlock innovative solutions, to transform societal outcomes.
Our comments on the NODE strategy revolve around four key challenges: open standards, privacy and security, transparency and accountability, and community engagement. We have provided recommendations at each stage and have relied upon our previous work around privacy, cyber security and technology policy for our analysis.
Firstly, we believe that the NODE Whitepaper stops short of providing a robust definition of openness, and does not comprehensively address existing Government policies on open source software and open APIs. We recommend that existing policies are adopted by MeitY where relevant, and are revised and updated at least in the context of NODEs where required.
Secondly, one of the key concerns with the NODE Whitepaper is the lack of detailed discussion on the aspects of data privacy and security. The Whitepaper does not consider the principles of data protection established in the Personal Data Protection Bill, 2019 (PDPB 2019) or take into account other internationally recognised principles. Without adequately addressing the data privacy concerns which arise from NODEs, any policy framework on the subject runs the risk of being devoid of context. The existence of a robust privacy framework is essential before instituting a NODE like architecture. As the PDPB 2019 is considered by Parliament, MeitY should, as a minimum, incorporate the data protection principles as laid down in the PDPB 2019 in any policy framework for NODEs. We also recommend that in order to fully protect the right to privacy and autonomy of citizens, participation in or the use of NODEs must be strictly voluntary.
Thirdly, a NODE framework built with the aim of public service delivery should also incorporate principles of transparency and accountability at each level of the ecosystem. In a network involving numerous stakeholders including private entities, it is essential that the NODE architecture operates on sound principles of transparency and accountability and sets up independent institutions for regulatory and grievance redressal purposes. Public private relationships within the ecosystem must remain transparent in line with the Supreme Court jurisprudence on the subject. To this end, we recommend that each NODE platform should be supported and governed by accountable institutions, in a transparent manner. These institutions must be independent and not disproportionately controlled by the Executive arm of the Government.
Lastly, we focus on the importance of inclusion in a digital first solution like the NODE. Despite steady growth in Internet penetration in India, more than half of its population does not enjoy access to the Internet and there is a crucial gender gap in the access to Internet amongst Indians, with men forming a majority of the user base. Learning from studies on the challenges of exclusion from the Aadhaar project, we recommend that the NODE architecture must be built keeping in mind India's digital infrastructure. Global best practices suggest that designing frameworks which are based on inclusion is a pre-condition for building successful models of e-governance. Similarly, NODEs should be built with the aim of inclusion, and must not become a roadblock for accessing public services by citizens.
Public consultations like these will go a long way in building a robust strategy on open data systems as numerous stakeholders with varied skills must be consulted to ensure quality and efficacy in e-governance models. We thank MeitY for this opportunity and hope that future developments would also follow a similar process of public consultations to foster transparency, openness and public participation in the process of policy making.
Our full comments submitted to the Ministry can be found here.